Manage Food Court and Canteens with multiple counters
---
100 % reliable and error free Prepaid Card Software for Malls, Stadium, Schools, Colleges, Hospitals, Canteens, Night Clubs, Water Parks and Corporate Cafeterias.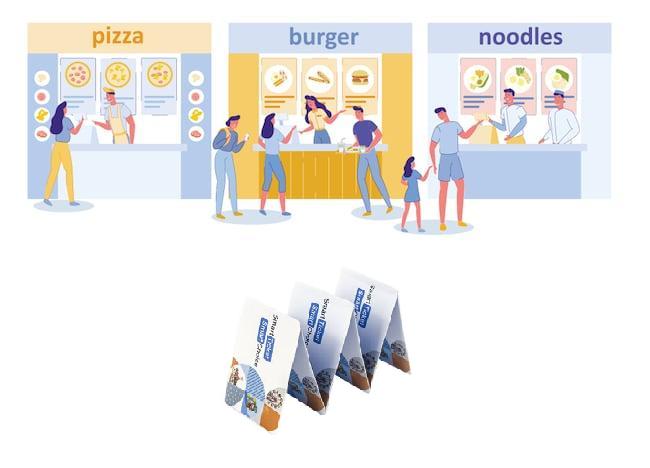 Cash transactions are limited only at Recharge Counters
Save not only effort, money but reduce manipulation by some vendors also.
The customer can recharge the card with Cash, Credit Card or PayTM.
Card Balance refund, security policy, validity can be customized.
System helps in doing away from coupons and its distribution to employees.
Detailed reports on sale, issue, recharge and refund.
Save food order in case of insufficient card balance.
Fastest, Reliable and Secured bill operation.
Inventory management gives you the ability to manage raw materials.
Prepaid Debit Card Cashless POS Process
---
Cashless Payments make it easy to purchase in the canteen or on our Mobile Point of Sale.
Step One

Customers obtain a prepaid rechargeable card at the cash counter or entrance.

Step Two

Customer hands over the card to the sale counter to place an order.

Step Three

Server swipes the card and serves the order.

Step Four

The order amount is instantly deducted from the card balance.

Step Five

The customer can recharge or refund the card as and when required.
Prepaid Payment POS Features
The system can be used as a prepaid cashless canteen system or to manage spend for deduction at the end of the month. ATS Prepaid Card POS software helps fast and secured billing. Cloud based or on-premise server. Offline POS support.
Touch screen Navigation, Mouse & Keyboard compatible.
Manage any number of counters safely during peak hours.
No Loose Change Problem on sale Counters.
Integrate your existing NFC employee cards into a cashless payment.
Secured void bill and re-printing control at sale counters.
Customer Loyalty for better Relationship.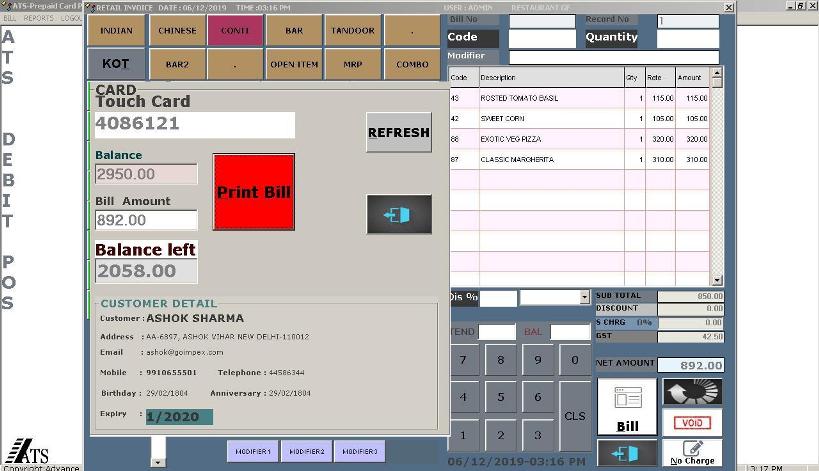 One punch of employee card means one breakfast, lunch or dinner slip
Paper coupons are expensive as they requires manpower for distributing, collecting and counting. Our software eliminate coupons and eliminates human error in accounting.
Items in canteen can be fixed like breakfast, lunch, snacks or dinner. Predefined items are served during time slot. Customized solution and reporting can be developed as per requirement.
Slip POS printer to print meal coupons for food dispensing.
Supports RF (Proximity) card and smart Card. Can be used as Debit card.
Software supports up to 11 time slots for billing.
Maintains employee database with photograph and get report for food consumption.
Reduces wastage and stop coupon manipulation.
Employee can generate slip themselves on any touch POS, laptop and desktop computer.
Want a Food Court or Canteen POS? You're in the right place!