Manage Food Court and Canteens with multiple counters
---
100 % reliable and error free Prepaid Card Software for Malls, Stadium, Schools, Colleges, Hospitals, Canteens, Night Clubs, Water Parks and Corporate Cafeterias.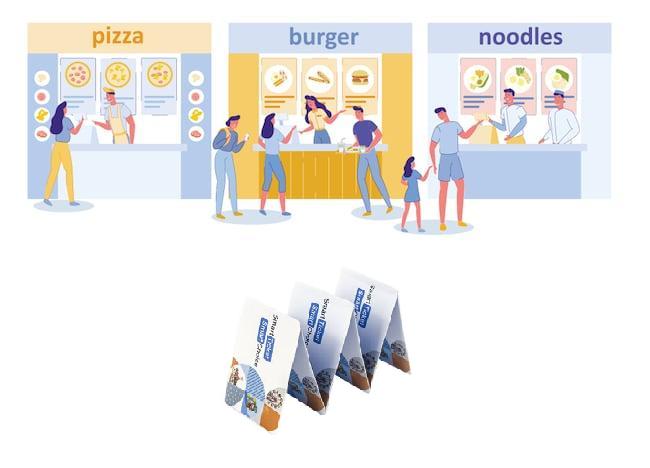 Cash transactions are exclusively limited to our designated recharge counters for enhanced convenience and security.
Achieve significant savings in both time and money while effectively combating vendor manipulation.
Customers have the convenience of recharging their cards using cash, credit cards, or PayTM for a seamless transaction experience.
Customize card balance refunds, security policies, and validity to meet your specific requirements with ease and flexibility.
Our system eliminates the need for coupons and the associated hassle of distributing them to employees, streamlining the process for enhanced efficiency.
Gain valuable insights with comprehensive reports on sales, issuances, recharges, and refunds for effective monitoring and analysis.
Save food order in case of insufficient card balance.
Experience the fastest, most reliable, and highly secure billing operations available.
Inventory management gives you the ability to manage raw materials.
Prepaid Debit Card Cashless POS Process
---
Streamline your purchasing experience in the canteen or food court through our Point of Sale with hassle-free cashless payments.
Step One

Customers obtain a prepaid rechargeable card at the cash counter or entrance.

Step Two

Customer hands over the card to the sale counter to place an order.

Step Three

Server swipes the card and serves the order.

Step Four

The order amount is instantly deducted from the card balance.

Step Five

The customer can recharge or refund the card as and when required.
Prepaid Payment POS Features
Our system offers versatile functionality as a prepaid cashless canteen system or for managing expenditures with end-of-month deductions. Experience efficient and secure billing with ATS Prepaid Card POS software, available on both cloud-based and on-premise servers.
Touch screen Navigation, Mouse & Keyboard compatible.
Manage any number of counters safely during peak hours.
No Loose Change Problem on sale Counters.
Use your existing employee cards for cashless payment.
Secured void bill control at sale counters.
Customer Loyalty for better Sale.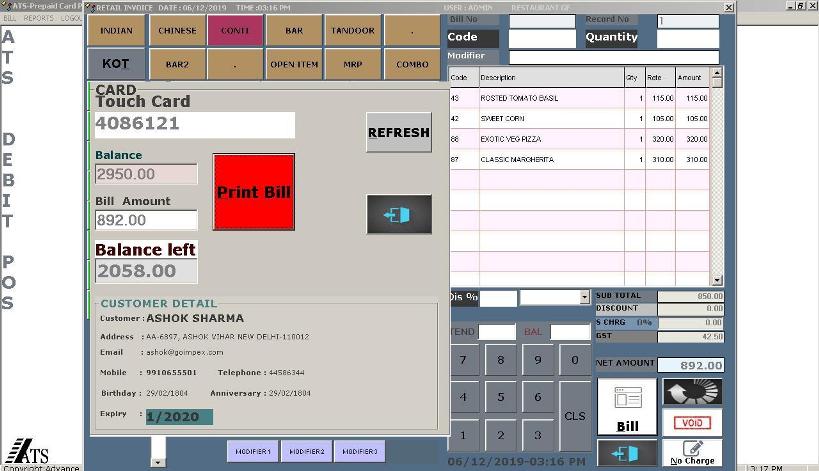 One punch of employee card means one breakfast, lunch or dinner slip
Paper coupons are expensive as they requires manpower for distributing, collecting and counting. Our software eliminate coupons and human error in accounting.

If the items in the canteen are predetermined, such as breakfast, lunch, snacks, or dinner, designated items can be served during specific time slots. A tailored solution can be developed according to specific requirements.
POS printer to print meal coupons for food dispensing.
Supports RF card and Smart Card as Debit card.
Software supports up to 11 time slots for billing.
Maintains employee database with photograph.
Reduces wastage and stop coupon manipulation.
Employee can generate slip themselves on any POS.
Prepaid Card Software Benefits for Food Courts and Canteens
---
Are you looking for a way to increase revenue and improve customer experience in your food court or canteen? Prepaid card software might just be the solution you need. With its numerous benefits, prepaid card software is becoming increasingly popular in the food and beverage industry.
1: Boost Revenue with Prepaid Cards
One of the most significant benefits of prepaid card software is the potential to increase revenue. By allowing customers to load money onto their prepaid cards, you can avoid losing sales due to cash-only transactions or customers who don't have enough cash on hand.
2: Improve Customer Experience with Faster Transactions
Customers appreciate fast and efficient service. With prepaid card software, you can reduce wait times and speed up transactions. Instead of fumbling for cash or a credit card, customers can simply swipe their prepaid card at the sales counter. This can help reduce lines and make the overall customer experience more enjoyable.
3: Enhance Security with Prepaid Cards
Security is always a concern, especially in the food and beverage industry. Prepaid card software can help improve security by reducing the risk of theft and fraud. With prepaid cards, customers don't need to carry cash, which can reduce the risk of theft. Additionally, the software can track all transactions and identify any fraudulent activity.
4: Improve Efficiency with Automatic Transaction Tracking
Prepaid card software can also help streamline your outlet's operations. Instead of spending time and resources on cash handling and tracking, the software can automatically track and track all transactions. This can save time and reduce errors, allowing you to focus on other important aspects of your business.
5: Utilize Marketing Opportunities with Customer Insights
Finally, prepaid card software can provide valuable customer insights that can help you tailor your marketing strategies. By tracking customer purchases and behavior, the software can help you identify customer preferences and create targeted promotions that resonate with your customers. This can help increase customer loyalty and drive revenue growth.
Wireless Token Display System for Counter
Alert your customers when their order number is ready. No need of expensive LED boards, loud speakers or shouting out customer names when their token number is ready.
No need of repair and maintenance of LED display board.
Wireless Token Display with human voice alert.
Advertise with images and running tickers.
Cloud solution to improve efficiency and reliability .
Lower startup costs and fees.
Works on a PC, laptop or any mobile.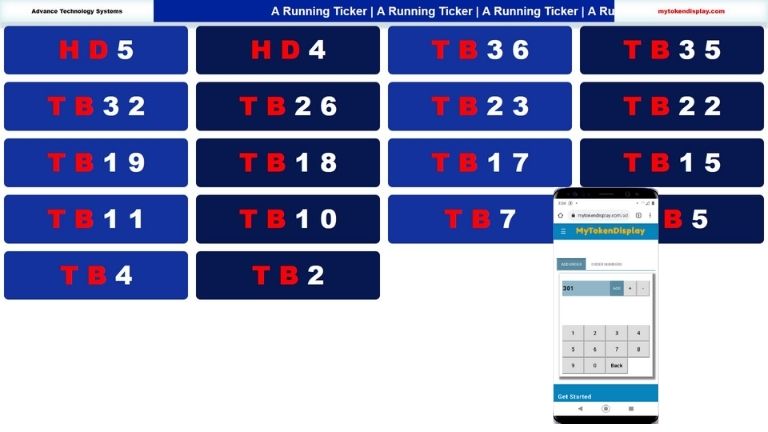 If you want a Food Court or Canteen POS ? You're in the right place!